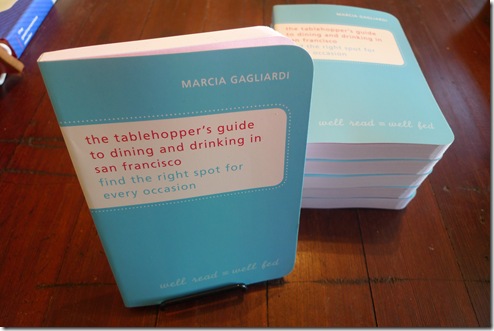 Before I even moved to San Francisco, I started plotting where I would eat. I picked up (and annotated) a Zagat guide, I read through a copy of  'The Cheap Bastard's Guide to San Francisco', I started reading Yelp reviews, all in addition to the 30 or so San Francisco bloggers I was relying on to steer me in the right direction. I was armed with a long list before I ever stepped foot on California soil.
And then, as soon as I got here, I discovered a great new addition to my growing arsenal:  'The Tablehopper' newsletter, written by the ever charming Marcia Gagliardi. First of all, I should start by saying that this woman knows how to eat.
Her weekly newsletters are a combination of local reviews, restaurant news, food news, food gossip and events, and numerous ideas to fill your calendar and to-do list. I read it partially because it gives great advice, partially because it makes me giggle, and partially because I'm a masochist and it's impossible not to be completely jealous of her gastronomic adventures.
And now she's in print!
Enter Marcia Gagliardi's new book: 'The Tablehopper's Guide to Dining and Drinking in San Francisco – Find the Right Spot for Every Occasion'. Thanks to Ten Speed Press, I got my hands on an early copy of this book, and it became immediately clear how useful it is.
For anyone (like myself) who decides on restaurants specifically based on emotions or occasions, this book is organized by particularly useful sections including:
Dinner with Your Parents (Conservative or Cool Ones)
Offbeat or Ethic Group Dinner Locations
Hip, but not a Total Scene (Slightly Spendy)
Co-worker Birthday Lunch
Good (or Hip) Spots for Solo Dining
Hungover (Can't Leave Bed)
There are also 1, 2, and 3-day Itineraries for those visiting the city, and sections organized by food type, such as Pho or Dim Sum
Now, when I'm looking for inexpensive vegetarian, gluten-free, a place to take my grandmother, or the perfect burger, I have all the information right at my fingertips, and it fits easily in my bag. This is a great gift for anyone living in San Francisco, or anyone planning a gastronomic trip to San Francisco.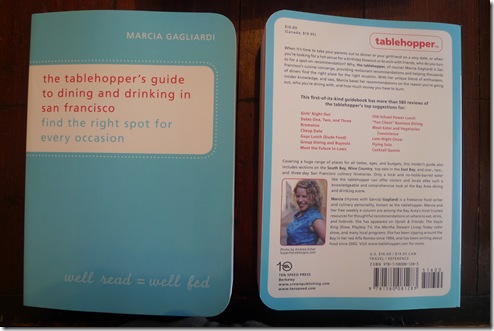 Follow Marcia on Twitter (while you are at it, follow me on twitter) or subscribe to the Tablehopper newsletter to get tasty ideas for bay area dining every week in your inbox.
Or come visit Marcia, (and me!) in a few weeks here at Omnivore books:
Wednesday March 24th, 6pm, free Book Signing at Omnivore Books 3885 Cesar Chavez St. at Church, San Francisco. Andrew Mariani of Scribe will be pouring his delicious 2008 Pinot Noir, Carneros, Sonoma. Yes, there will be free wine. Who doesn't love free wine?
*            *           *
The Tablehopper's Guide to Dining and Drinking in San Francisco: Find the Right Spot for Every Occasion by Marcia Gagliardi; Chronicle Books, 230 pages.