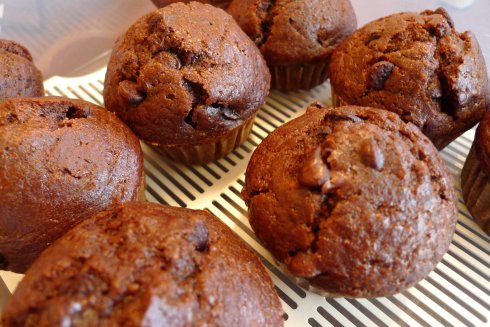 I'm wary of vegan dessert recipes. "Vegan" and "Dessert" just don't go together. Philosophically, it's just so difficult to conquer – a good dessert is something filled with butter, sugar, and eggs, and who am I to compromise on that? And I've been burned so many times with really bad vegan desserts that make me cringe just thinking of them. It is with this brutal preface, that I'm so happy to say that I've seen the light. Now, some things you just can't do vegan (such as shortbread) but the truth is, there are some brilliantly good vegan desserts, such as these Mocha Chocolate Chip Muffins that you probably have to go and bake today.
I owe my philosophical conversion to my friend Beth, who is both vegan, and a particularly adept baker.  She routinely brings in to work the most delicious muffins and cookies, that are really just out of the world incredible. My particular favorites are the pumpkin chocolate chip walnut muffins, but after eating these mocha chocolate chip, not only did they best the pumpkin chocolate chip, but they have also taken a place in my all time favorite muffin category.
Most of Beth's recipes come from Isa Chandra Moscowitz, who has a great blog called the Post Punk Kitchen and has some really awesome cookbooks that I would highly recommend to anybody who is vegan, or simply interested in adding some vegan cooking to their repertoire. Or anyone who likes super tasty food. This particular recipe came from 'Vegan with a Vengeance'.
Vegan Mocha Chocolate Chip Muffins
makes 1 dozen muffins
from 'Vegan With a Vengeance'
by Isa Chandra Moscowitz
1 1/2 cups all purpose flour
3/4 cups sugar
1/4 cup cocoa powder
2 1/2 teaspoons baking powder
1/2 teaspoon salt
2 teaspoons instant coffee powder*
1 cup soy milk
1/2 cup canola oil
3 tablespoons soy yogurt
1 teaspoon vanilla extract
1/2 cup chocolate chips
Method:
1. Preheat the oven to 375 degrees Farenheit. Lightly grease a 12 muffin tin, or line with muffin liners.
2. In a large bowl, sift together flour, sugar, cocoa powder, baking powder, and salt. Mix in the instant coffee powder. In a separate bowl, whisk together the soy milk, oil, yogurt, and vanilla. Pour the wet ingredients into the dry, and whisk until moistened. Fold in the chocolate chips.
3. Fill the muffin cups three-quarters full. Bake 18 to 20 minutes, or until a toothpick or knife inserted into the center of one comes out clean.
Note: Regarding the instant coffee, if you don't have any, you can just add more cocoa powder and make it "double chocolate". The instant will give you a nice concentrated flavor, better than using espresso, and without being problematic with the liquid to dry ratios. Beth used those new Starbucks Via – one little package is equal to a teaspoon. I've also used them for baking with similar success.
More Books by Isa Chandra Moscowitz:
:: Veganomicon, the Ultimate Vegan Cookbook (buy on amazon)
:: Vegan with a Vengeance (buy on amazon)
:: Vegan Cupcakes Take Over the World: 75 Dairy-Free Recipes for Cupcakes that Rule (buy on amazon)
:: Vegan Brunch: Homestyle Recipes Worth Waking Up For (buy on amazon)
and her newest
:: Vegan Cookies Invade Your Cookie Jar: 100 Dairy-Free Recipes for Everyone's Favorite Treats (buy on amazon)