I'm still working off the buzz from last night's Punch Contest we hosted at Omnivore Books, the latest in our popular series of friendly neighborhood food competitions. (Previous throwdowns included pie, fried chicken, and pumpkin.)
The rules were simple: free entry if you bring your punch, boozy or non (okay, they were all boozy, who were we kidding?), or pay $5 at the door to drink as much punch as you can handle. Everyone judges, and the winners split the door money.
There were no actual requirements for entry, you just had to show up. Which of course, made it slightly nerve-wracking for us when it was ten minutes 'til, and the punches still hadn't arrived. It was down to the wire, but I'm happy to report that we had 10 completely unique and intriguing entries.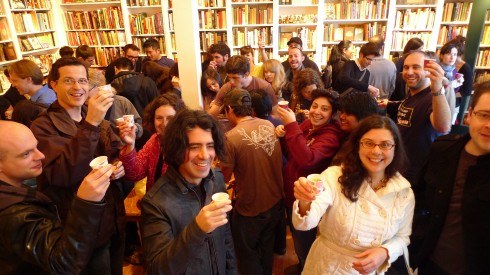 Turns out, when you host a punch contest, people are happy, because you are providing them with tasty adult beverages, and the company of friends and neighbors. Well done, us.
And now a look at some of the entries: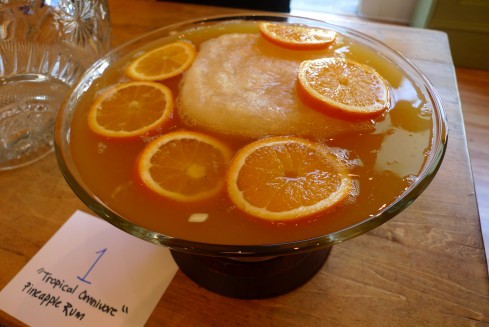 One major trend was ingenious home made ice rings. This one was a frozen gingerale ice block, others were filled with fruit, and a vintage tupperware mold made an appearance. I was also intrigued with the variety of serving dishes – from crystal punch bowls, to jugs, to an electric fountain (alas, we didn't have electricity, but the thought was what counted.)
Some of the punches arrived already prepared, but many were putting the finishing touches before the drinking started: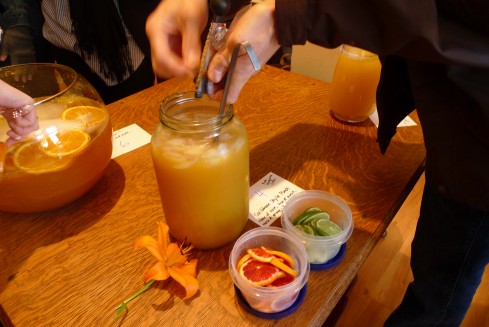 And here, the winners making their Mission Gutter Juice. It was a collaborative process.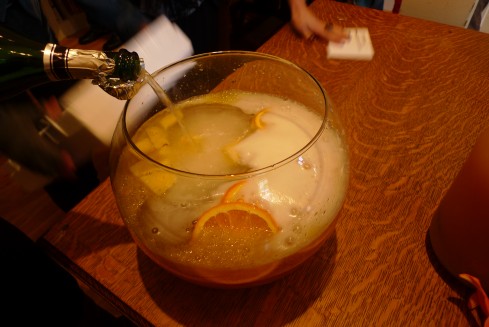 First Place went to Mission Gutter Juice – "the punch you hate to love" with twenty votes! Just four ingredients – Vodka, Bud LIght, Fresca, and Lemonade Mix.
Second Place went to Jetsetter Punch: Brandy, rum, cachaca, cara, green tea, pineapple, and nutmeg syrup.
Third Place to Kagetaka's Grog: a spiced persimmon vodka.
And Fourth Place – we didn't announce it, but it was tied for my favorite with the Kagetaka's Grog: The Whiskey Sunrise, featuring freshly squeezed grapefruit, orange, other citrus, maraschino cherries and sour mix.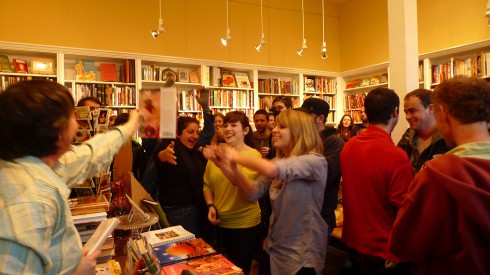 And the fun didn't end after judging! This place was a party until closing, including the late coming 11th entry, who after showing up after the judging was over, graciously donated their raspberry adult beverage to keep the party going. Thanks guys!!!
The next contests are in the works, but you can be sure to see soon Food/Art puns (such as "Finnegan's Cake"), a Cookie Competition, and bring your best Ethnic Fusion cuisine – think (Japanese + American ) moffles (mochi waffles), or maybe (Chinese + Jewish) 5 spice tsimmes? Ok, I don't know, I'm leaving the creativity up to the contestants… Actually, 5 spice tsimmes sounds pretty good….
Omnivore Books Food Competitions
To get the official updates follow on twitter @omnivorebooks or sign up for the newsletter on the website.