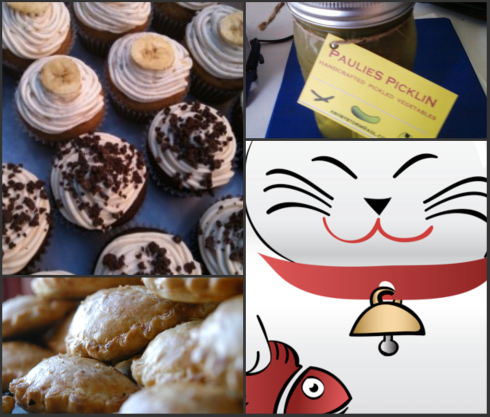 The news is hot:
Six local vendors are about to open a collaborative culinary marketplace in San Francisco's Bernal Heights neighborhood… in other words, less than a mile away from my house. Yeehaw!!! I walk up the hill to Bernal about once a week, partly for the pleasure of huffing and puffing my way up the little hill from Mission to Cortland – and partly for the pleasure of enjoying this great little corner of San Francisco  filled with independent coffee shops, bookstores, cute restaurants, and nice markets. I haven't yet tried the new Sandbox bakery, but I hear that it's fantastic… Anyone want to join me?
The lineup of vendors is looking particularly promising:
Wholesome Bakery: Tasty vegan treats and baked goods – that are also wheat-free, yeast-free and soy-free. And to wash them down, Desiree Salomon's DEZYS DRINKS—including "freshly made chai, juice, and kombucha tea, all made from scratch daily using mostly organic fruits, vegetables, and spices, and all kid-friendly." Yum!
Paulie's Pickling : featuring hand crafted pickled vegetables and fruits, as well as sauces, relishes, sandwiches and salads. I have a thing for pickles that rivals any pregnancy craving, so I'm guessing that this one is going to be a particular favorite of mine.
ICHI Lucky Cat Deli : Japanese deli delights! I'm particularly looking forward to their sushi (which has until now been experienced only by those lucky enough to have ICHI cater an event..) Japanese sandwiches, and take home sushi kits.
El Porteño Empanadas : I went to college with Texans responsible for my love of empanadas. But really, who wouldn't love an empanada? Little handpies that you can fill with savory or sweet, and then grab on the go? My type of food! El Porteño Empanadas are of Argentinian influence, and will feature Prather Ranch Beef, Fulton Farms Chicken, and fresh organic/local veg for their vegetarian versions.
Della Terra Organics : organic produce from the bay area – open seven days a week when you miss out on farmer's market.
And for the kitchen oriented,
Bernal Cutlery will set up shop on the premises to sharpen your well used knives.. and maybe tempt you with some new ones.
This is just a taste, but I'll be sure to report from the field in a few weeks when the doors open! [Opening Late January, 2010.]
331 Cortland
Bernal Heights
331 Cortland Avenue, San Francisco
California, 94110
Contact: 415-822-4024