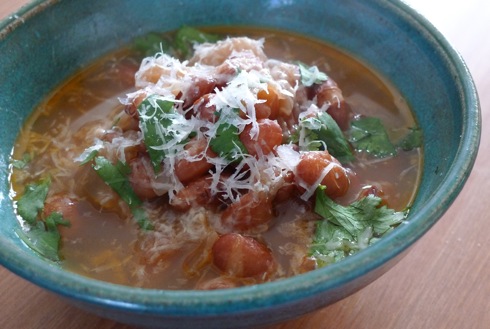 Ok… I may have… in a fit of passion… ordered a massive quantity of beans two days ago from Rancho Gordo. And by massive quantity I mean… 15 pounds of beans. So, I'm going to do my best in the next few days to reduce my current bean pantry, and hopefully share with you all some of my results.
This morning I was surfing around the interwebs and found a recipe called "Good Soup for Sick People" on Heidi Swanson's site '101 Cookbooks' and even though I'm not sick, it sounded like a good soup for cold people, tired people, and people on their day off work huddled on their couch, (ie: me.)
Heidi makes hers in the oven, using her nice Le Creuset pot, [which I'm about to be blessed with for the holidays but I'm having trouble currently making the choice of color and size (Dijon? Carribean? Onyx? Advice anyone?)] but as I don't have one yet, I had to make do with the stove top. It works out just fine.
This recipe basically has 6 ingredients,  all of which were in my pantry, and is completely hands off. Prep time? About three minutes. And it's pretty flexible – if you have shallots instead of onion, you could do that, or if you need to use canned stock, that's fine too. Although I'd go for a low sodium variety so that you can adjust your own seasoning. No chipotle in adobo (although really you can get these everywhere)? – go for a dried chile.
So you put it all in a pot. And you wait. And then what you get at the end is this savory, spicy, and hearty soup – the beans will have plumped up and the onions and garlic become so soft they melt in your mouth. It tastes a little bit like french onion soup… with a kick! Believe me, that chipotle really fires you up! I think this one is going to go into heavy rotation in the next few weeks.
Spicy Bean Soup (Good for Sick People)
adapted from 101 cookbooks
serves 2
Ingredients:
1 cup of dried borlotti beans (or other cranberry beans), preferably that you have soaked overnight*
1 large onion, sliced or roughly chopped
8-10 cloves of garlic, peeled, whole, trimmed
8 cups of stock (I used home made turkey stock)
1 chile pepper in adobo
1 bay leaf
To serve : (optional, but highly recommended):
fresh cilantro
freshly grated parmesan
1. In a soup pot, add all of the ingredients, and bring to boil. Cover, turn down the heat to a simmer, and let it go for an hour or so. After the first hour, check to make sure your liquid hasn't decreased too substantially, and add water if needed. Let the thing simmer for a second hour until beans are tender, and you can't hold yourself back from eating it all.
To serve, top with some fresh cilantro, and a shaving of Parmesan.
Eat. Feel restored.
*Note: I didn't soak my beans. They were done in just over 2 hours. But then again, that's because I buy them from Rancho Gordo, and they are fresh, fresh, fresh!