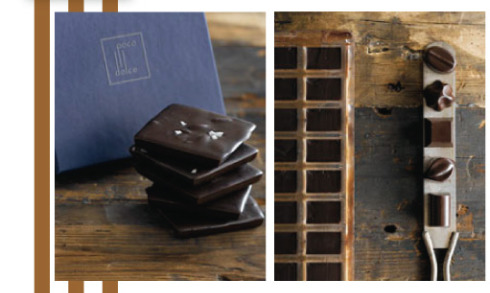 There is an empty canister of Poco Dolce Espresso Toffee chocolates sitting behind my desk at work. I've opened it every few days over the past couple of weeks hoping that it would miraculously be full again of chocolate. (You think I'm kidding – sadly I'm not.) I really should replace it before I go crazy for good.
I remember vividly the day that I had my first Poco Dolce chocolate square (they call them tiles). I had just completed a long walk, over two very big hills, and ended up at Chocolate Covered in Noe Valley – the fine purveyors of just about any chocolate you can think of eating. The interaction went something like this: Me: "JACK! I need a most delicious chocolate that I can eat immediately! I need something exciting! I need your best!"  Jack: Knowingly hands me a Poco Dolce Aztec Dark Chocolate Tile flecked with Sea Salt.

Jumpin' Jehoshaphat! – it was a like a multiple layer explosion.
Deep, dark chocolate. Spicy chile pepper with hints of cinnamon. Crunchy little toasted pumpkin seeds nestled in between. And flecks of salt that make the chocolate sing! You experience each individual layer and then they mix together and… I can't come close to giving them justice, you really have to just try one.
And, the company is run by a smart and entrepreneurial woman, Kathy Wiley, here in San Francisco. I've been tempted to scream out "YOU GO GIRL" on the times that I've met her in the flesh, but that is embarrassing and a little ridiculous, and I really just think that aside from the fantastic chocolate, it's just really inspiring to see women as leaders in the food industry.

Poco Dolce chocolate is a perfect stocking stuffer. Poco Dolce chocolate is a perfect afternoon snack, perfect breakfast, perfect gift for someone you really care about, perfect stress reducer, you name it. Poco Dolce chocolate is really just perfect. Do yourself a favor and buy some of these. You can thank me later. (Preferably with a shipment of Tile Trio).
Prices run from about $2.50 a square to $16 for an 8 oz canister of toffee squares, $18 for a box of 8 tiles, $22 for a sampler of toffee squares, to $50 for the Trifecta box of Tiles, sure to make you an instant hero to the special recipient.  For chocolate of this quality and deliciousness a pretty good deal.
pocodolce.com
415.255.1443
info@pocodolce.com
Chocolate Covered
4069 24th St (between Castro St & Noe St)
San Francisco, CA 94114
(415) 641-8123