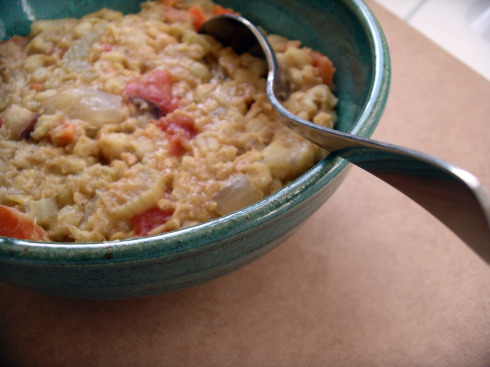 A few weeks ago we headed down the California coastline to a tiny town named Pescadero, on a quest for beans. Pescadero, at the midway point between San Francisco and Santa Cruz – is known for a lovely beach, antiques, the historic artichoke soup at Duarte's Tavern (which apparently Guy Fieri is a fan of), and the burrito joint in the gas station – but if you drive farther down the road you will get to a mystical and magical place named Phipps Country Store, which has both an unusually large selection of beans, and an unusually large selection of birds, small furry animals, livestock and antique stoves.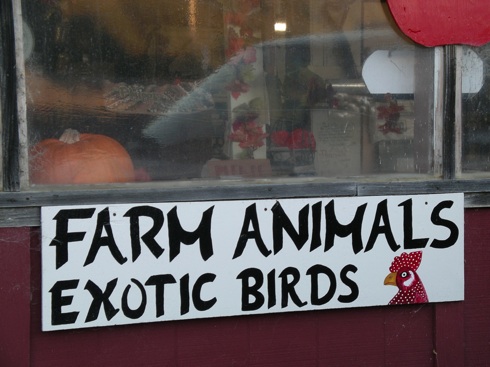 So, truthfully, I drove over an hour just to buy beans. But, oh what beans!!! Phipps brags over 50 types of beans, most of which are grown by them, using no sprays/chemicals. While I was there I picked up some chickpeas, runner beans, soup mixes, and chestnut runners, all glorious stuff.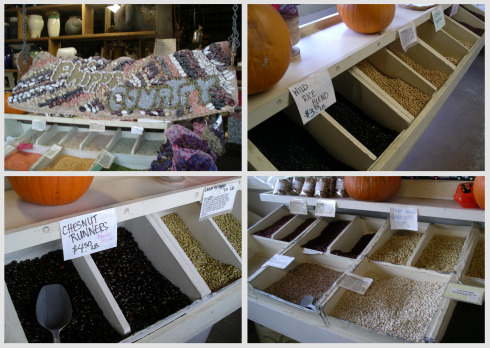 Included in my purchase was one really great package of red lentils and barley – that came with a recipe which I adapted for dinner.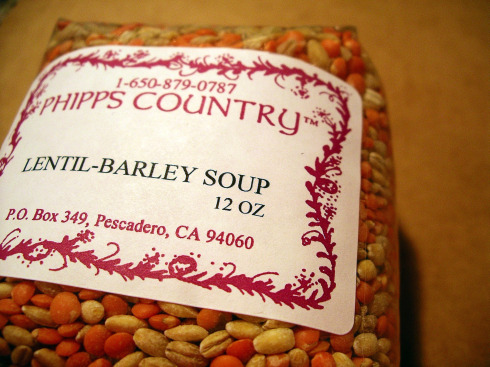 This soup is perfect for the winter weather, and like most soups, tastes absolutely delicious for lunch the next day even if you are eating it cold. My twist is the miso – I use white miso, which adds a really nice depth of flavor to soups without it tasting miso-y or exotic. You can easily find white miso paste in the refrigerator section of any asian market, and I would highly recommend buying it to have on hand. If you can't find miso, you could substitute bouillon.
Phipp's Red Lentil Barley Soup
makes 8-9 1 cup servings
1 slice thick cut bacon (I use Niman Ranch)
1 cup (or 1 large) onion, chopped
1 cup (or three stalks) celery, chopped
2 cloves garlic, minced
1 can (28 oz) tomatoes, or 4 cups diced fresh tomatoes
3/4 cups red lentils, rinsed
3/4 cup pearl barley
4 cups water
2 cups low sodium chicken broth
1 tablespoon white miso paste
1/2 teaspoon dried rosemary, crushed
1/2 teaspoon dried oregano, crushed
1/4 teaspoon ground black pepper
1 cup shredded swiss cheese, or sharp cheddar (optional)
In a large heavy bottomed soup pot, place the slice of bacon over medium heat, until most of the fat is rendered. Add in the onions, celery and garlic, and cook until tender, about 10 minutes.
Add the water, chicken broth, miso paste, tomatoes, lentils, barley, rosemary oregano, carrots and pepper. Bring to a boil, and then turn down the heat and simmer gently for 40 minutes or until the barley, lentils and carrots are tender. Top with swiss cheese or sharp cheddar if desired. (It goes well with or without!). I made a small batch of salt and olive oil rolls from my refrigerated master dough from "Artisan Bread in 5 minutes a day" and it went perfectly with this.
Nutritional Information: (Per 1 cup serving, not including cheese) Calories: 158, Total Fat: 1.6 g, Sodium: 115.9 mg, Total Carbs: 29.3 g, Dietary Fiber: 6.5 g, Protein: 7.7 g
Phipps Country Store and Farm
2700 Pescadero Road, Pescadero, CA 94060
(650) 879-0787
Hours: 10:00 – 5:00 during winter, Closed Mondays