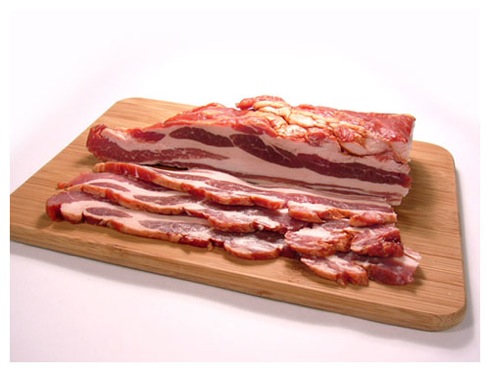 This week one of those hokey "name 3 things you like to eat, 3 places you've lived, and forward it to everyone!!!" emails circulated throughout my friends, with one noted similarity between all of our responses: It seems that we all have a voracious passion for bacon.  Clearly our love for bacon will unite us for all time in friendship, so that's exciting. And really who can blame us? There is so much you can do with the product – one slice lends entire flavor to soups, served crisply with eggs it is a miracle, even covered in chocolate there is demand.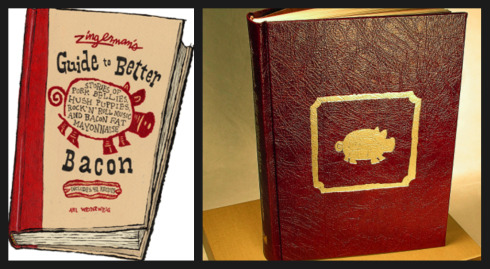 At the bookstore we have been selling copies of "Zingerman's Guide to Better Bacon", a rousing tour of bacon's history (which for $300 you can get yourself a pigskin bound copy), as well as the Bacon Cookbook, which should have a prominent place in every bacon lover's kitchen. In an unscientific poll that I've conducted, those most likely to buy these books were in a sub-set group of customers of which I include myself: the "JPAB's", say it: "Jay-Pab's" or "Jews passionate about Bacon". Maybe being deprived of bacon as a child led to my obsession, but really I think it's actually a mix of deprivation and a greater cultural legacy- we Jews have a penchant for perfect savory brunch food – lox, whitefish, chopped liver, cream cheese, bagels – it's no wonder that bacon sneaks itself in somehow.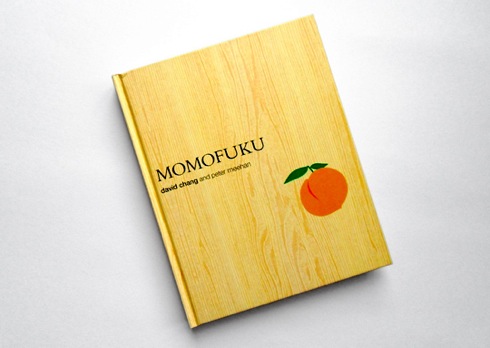 (Photo Helen Rosner/Eat Me Daily)
I'm always looking for new ways to use bacon, and most recently stumbled across a miracle in my new Momofuku cookbook – Bacon Dashi. Dashi, a traditional japanese stock made of konbu (kelp), and bonito flakes (dried fish, which has been powdered), is a staple broth that can be used in a myriad of ways. In the Momofuku cookbook, (of which a brilliant review can be found at Eat Me Daily), David Chang substitutes more easily findable smoky bacon for bonito, to create of this ever useful base broth. I made a batch last week, and have been using it in everything.
Things to use Momofuku Bacon Dashi for:
:: As the liquid for any soup, stew, grain, rice, or polenta. ::
Or:
1. Bacon Dashi over "stuff": Slice shiitake mushrooms and green onions (scallions) in a bowl, and some silken tofu if you have it. Ladle hot Bacon Dashi over the contents of the bowl. Sit. Drink with glee. You know, I haven't tried this, but I bet if you were to crunch up some of those onion strings that people put in green bean casserole in the bowl as well – it would taste good too.
2. Bacon Dashi Miso Soup – use the Bacon Dashi in this perfect and easy recipe for miso soup from Maki of Just Hungry.
3. Quick Bacon and Cabbage soup: Chop one strip of thick cut bacon and cook over medium high heat in a large soup pot. Add in one chopped onion and three minced cloves of garlic, and cook for about 4 or 5 minutes until slightly tender. Add in one chopped carrot, and rip in three leaves of sage. (If you have a potato, cube it into really small pieces, and add it here). Add a tin of cannelini beans, or great northern beans. Cook for about two minutes, and add 6 cups of Bacon Dashi – or a mix of water and dashi if you don't have enough bacon dashi because you have used most of your double batch in the past few days. Bring to a boil, then turn down the heat, cover, and simmer for 20 minutes. Add in a half head of cabbage, roughly chopped, and 1 tablespoon of white miso paste and simmer for 10-15 more minutes. Season with some pepper, and serve.
*If you don't have white miso paste, you could just salt at the end, but it wont have that nice unctuousness and depth that the miso adds to the soup. Buy yourself a little tub, and use it!
Momofuku Bacon Dashi
from the Momofuku Cookbook
Makes 2 Quarts
Two 3-by-6-inch pieces konbu (kelp)
8 cups water
1/2 pound smoky bacon, preferably Benton's
1. Rinse the konbu under running water, then combine it with the water in a medium saucepan. Bring the water to a simmer over medium heat and turn off the stove. Let steep for 10 minutes.
2. Remove the konbu from the pot and add the bacon. Bring to a boil, then turn the heat down so the water simmers gently. Simmer for 30 minutes.
3. Strain the bacon from the dashi, and chill the broth until the fat separates and hardens into a solid cap on top of it. Remove and discard the fat and use the dashi or store it. Bacon dashi will keep, covered, for a few days in the refrigerator.
*Notes: All Asian grocery stores and most health food stores will carry dried konbu (kelp), although increasingly it is found in the Japanese part of the "world" section of the American supermarket. As to the bacon, I used Niman ranch thick cut apple-wood smoked bacon, and it worked out just fine.
*Also, you can half this recipe, or if you are smart, double it.
*Also, you can eat the konbu for snack instead of throwing it out. I wouldn't advocate the same with the boiled bacon.
Other people using Bacon Dashi in creative ways:
Anticiplate: Southern Style Shrimp 'n Grits
Inuyaki: Bacon Agedashi Tofu