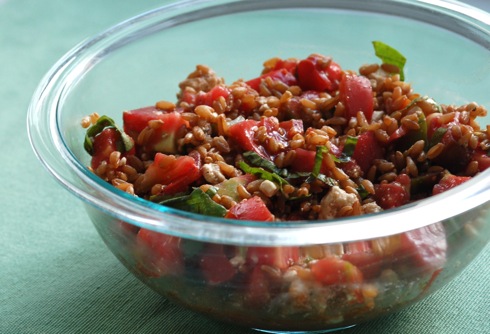 Farro is an interesting grain with a nice bite, that is well suited to easy summer salads. I use it in recipes that call for wheatberries, green lentils, bulgur or even barley occasionally as a replacement, but I find that I love it best in this salad with tomato, basil, feta, and a balsamic vinaigrette. I'm lucky to find farro at Rainbow Foods in San Francisco, but in some places, farro can be pricey – try shopping for it in stores with bulk bins, at trader joe's, or even online.
Farro is an Italian word, and when I eat this grain, I find myself transported to Tuscany, sitting in the garden of my imaginary apartment, eating blissfully, drinking a glass of wine, and contemplating nothing but relaxation.
As usual, I use Mark Bittman's pretty foolproof way of cooking most grains – put one cup of the grain in a small pot, and cover by at least an inch of liquid – bring to a boil, and turn down, cover, and simmer for 30-35 minutes without touching it. Then you can test it – if it's not done, just add a few more tablespoons of liquid, and leave on the heat for ten more minutes. Unlike rice, don't worry if there is extra liquid after the cooking time, just drain it.
MASTER RECIPE! Variations: This salad is also a great vehicle for crunchy vegetables – feel free to add fresh corn kernels (you don't need to cook them!), black beans, bits of chopped red pepper, cucumber, shavings of carrot, chick peas, or even little cubes of summer squash to name just a few! Also, you can punch up the herbs with some fresh parsley or fresh mint (or both) to give it some extra green. No balsamic on hand? Just make a simple lemon vinaigrette with the same proportions of lemon to olive oil.
Farro Salad with Tomatoes, Basil, and Feta
serves 2 as a main, 4 as a side
Ingredients:

– 1 cup farro
–  enough salted water or chicken broth to cover farro by one inch in pot (about 2.5 cups)
– 1 large heirloom tomato, chopped (ripe! uglier the better!)
– about ten leaves of basil, rolled into a cigar shape and chopped
– salt and pepper
– 2 ounces feta cheese
– 2 tablespoons balsamic vinegar
– 4 tablespoons extra virgin olive oil
Method:
1. In a medium saucepan, combine the farro and enough water (or chicken stock) to cover farro by an inch. Bring to a boil over high heat. Reduce the heat to medium-low, cover, and simmer until the farro is tender, about 35 minutes. Drain, and set aside.
2. In a large bowl, add the chopped tomatoes, basil, and feta, and cover with the slightly cooled farro. In a small bowl, whisk together the balsamic vinegar, salt, pepper, and olive oil to make a vinaigrette. Pour into the farro salad, and toss to coat. You can eat this warm, or it can be made in advance and popped in the refrigerator. Just let it come back to room temperature when you want to eat it, and make sure to re-toss it!