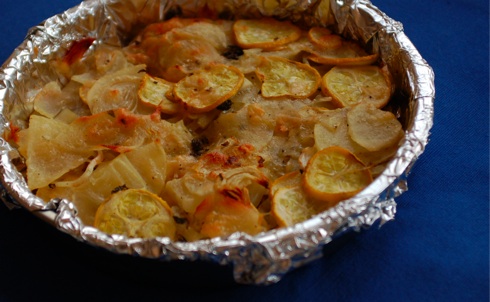 Summer squash is upon us at farmers market! And it's cheap cheap cheap! I've been getting it for a dollar a pound or less, and using it baked, in salads raw, in soup, or just sliced thinly and sauteed with a little bit of olive oil, lemon juice, thyme, salt and pepper.
Today I decided that I'd go for it baked with potatoes and cheese in a little gratin – enough substance for a main meal, served with a little fresh salad of tomatoes, roasted peppers, and fresh herbs. I've been trying to make a good amount of my meals vegetarian, and this combo was both tasty and quite satisfying, even for the omnivores.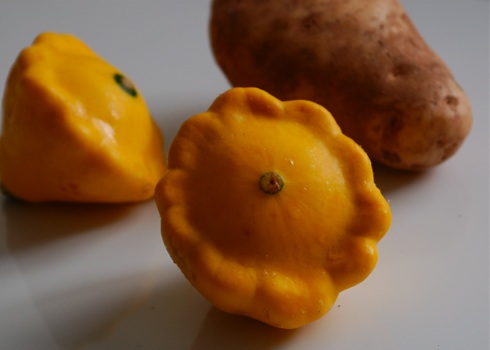 The trick to this gratin is slicing the potatoes and squash really thinly, so they cook up speedily and the whole dish is cooked through. And for the tomato salad, you want to use really ripe tomatoes, preferably heirloom tomatoes, that haven't been refrigerated, otherwise you won't have the burst of flavor that is so delicious in this salad.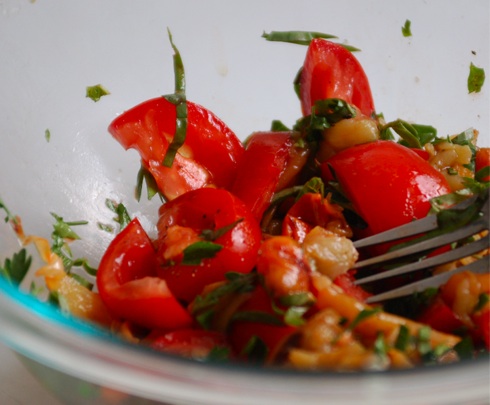 Summer Squash and Potato Gratin  – serves two as a main course
:: Preheat oven to 375 degrees. On a mandolin or with a peeler, very thinly slice a pattypan squash, a summer squash (or zucchini), and a russet potato into a medium bowl. You want to make sure your potato is paper thin, or else it won't cook all the way through. Thinly slice a shallot, and add it to the mix. Coat mixture with several good glugs of tasty olive oil, add in a few sprigs of fresh thyme, a good pinch of Maldon or other coarse salt, some fresh black pepper, and a half a cup (or more) of freshly grated Parmesan cheese. Toss well, and somewhat evenly layer into an 8-inch cake pan, lined with foil, cover with another layer of foil, and bake for about 40 minutes. Take the foil cover off, and bake an additional 15-20 minutes until top is slightly browned and crispy.
Summer Herb and Tomato Salad
:: In a bowl, slice a few really good heirloom tomatoes, about a cup of roasted red peppers, and a good handful of chopped basil, parsley, and mint. Dress with a simple balsamic vinaigrette – one part balsamic to about three parts olive oil, and a dash of salt and pepper. You can add some green lettuce, optionally. If you don't have roasted peppers – make some – preheat the oven to 400, and pop the peppers onto a foil lined baking sheet, turning every 10 minutes or so until they have charred slightly on the outside. Let 'em sit for ten minutes or so until they are cool enough to peel, then peel, and remove the inner seeds and the stem. If you still don't have peppers – just add a few more tomatoes, and maybe a few cubes of fresh bread if you want. Almost like panzanella. That's about it.