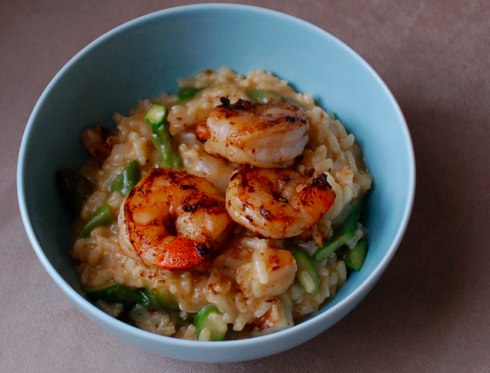 I've been reading the Pioneer Woman religiously for several years now, and she is always reminding me of the beautiful things in life – love, the land, family, food, and friends.
Last month her friend Pastor Ryan of This is Reverb came to visit her, and made the most delicious looking shrimp risotto – I knew I had to try it. I had just purchased some beautiful asparagus at the farmers market, and decided to add that to the pot. This stuff is so incredibly good I can't stand it.
Pastor Ryan is a hip, tattooed, man of god, with the most adorable daughter Ava Beans – he also happens to cook exactly how I want to cook – flavorful, painfully delicious food that is created without recipes, but with a basic foundation for your starting point and then just go! He's been advocating Michael Ruhlman's book Ratio – which is next on my to read list.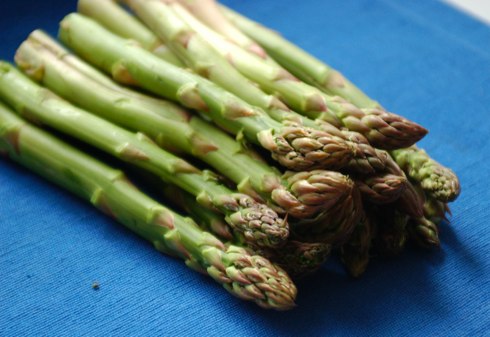 Aren't they beauties? I was so excited to use them. A note on choosing asparagus: These were not too thick (sometimes the stalk gets really thick in late summer, in which case I would have used a vegetable peeler to peel them so that you aren't trying to gnaw through the tough exterior), and the tips were tightly together, rather than splayed out or slimy or soggy which is a sign that they aren't fresh.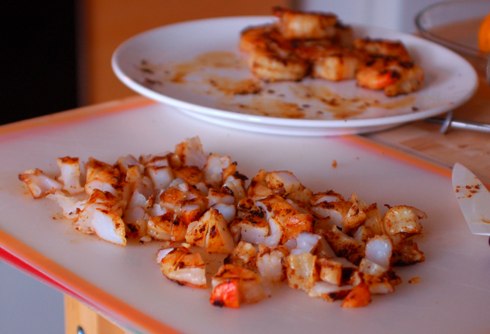 This dish seems labor intensive from the recipe, but don't let it scare you. The entire process takes about 45 minutes from start to finish, and it just requires gentle coaxing and will reward you immensely.
Shrimp and Asparagus Risotto
adapted from Pastor Ryan of This is Reverb
serves 2 (plus one lucky person for lunch)
For the shrimp:
4 tablespoons unsalted butter (or salted)
several good glugs of  worcestershire sauce
3 cloves of garlic
1 lb. peeled and deveined shrimp, ends removed
a lot of seasoning of your choice (lemon pepper, old bay)
For the risotto
a few good glugs of olive oil
1 large shallot, finely chopped
1 cup Arborio Rice
1/2 cup dry white wine
4 cups organic chicken broth
1 bunch asparagus, steamed, cut into inch long pieces
Method:
1. In a small pot, warm the butter on low heat, and add in the worcestershire sauce, and a few cloves of garlic. (I smushed 'em with the heavy side of my knife and then chopped them really finely before dumping them in.) Let that all mellow together on low while you peel the shrimp (and devein them – although I usually like to purchase them cleaned) – and then in a shallow bowl, spoon the sauce over the shrimp and let sit while you start your risotto.
2. In a heavy bottomed pot, sautee the large shallot in a few good glugs of olive oil. After a few minutes, throw in your arborio rice, and a half cup or more of white wine. Now this is a bit of a process – add your broth in, about a half cup at a time, stir, and let it cook down slowly (a few minutes each time) before adding the next half cup. – this whole process takes about 30 – 40 minutes or so – but don't feel like you have to be stirring the whole time. (when you have about a cup of broth left, start back on the shrimp)
3. Shrimp, part two. Now that the flavors have been mellowing, heat up the grill. (Or in my case, a grill pan). Before puttting the shrimp on, toss in some of your favorite seasoning into the shrimp mixture – I used my grandmother's super special seasoning mix – but lemon pepper or old bay would work absolutely fab here. Toss them onto the grill, and cook just a couple of minutes on each side. When done, chop up about three quarters of the shrimp, and save the rest whole for garnishing.
4. Steam the asparagus – just cut them into couple inch long pieces, put them in a pyrex in the microwave for five minutes with an inch of water and covered with a lid or some saran wrap.
5. Ok! Back to the risotto! I hope you have been stirring occasionally! Now add in your chopped shrimp, and your steamed asparagus – take a little taste – and season with some salt and pepper if it needs it. (The flavors from the shrimp should usually do it, but it might need just a tad more. Pastor Ryan adds in some green onions here… but I erm… don't like them very much, so I omit them. I'm sure they would be good if you enjoy them though!
Serve, with the whole shrimp on top – man the stuff is good.
Thoughts – for next time – I think I might add in some chopped kielbasa – and you could theoretically do this with any seasonal vegetable you have and it would be pretty delicious. You could also do it with lobster I would think – that is if you are living on the east coast and it's 5.99 a pound rather than more than double that here in California!
Thanks Pastor Ryan! Thanks Pioneer Woman!
For a foundation on cooking risotto, you can look at Ree's post on Basic Risotto.