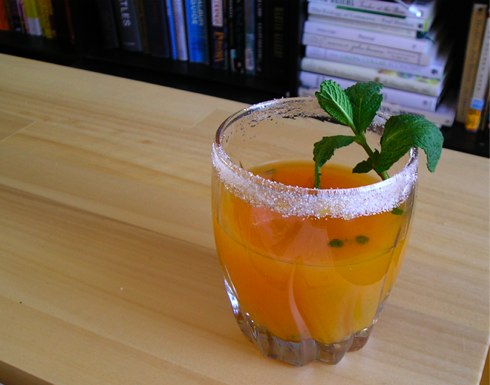 Usually around five thirty in the afternoon when the weather gets warm I crave an afternoon cocktail, something light and refreshing to wind down the day. I close my eyes, sip my drink and pretend that I'm  wearing a sun dress, a straw hat, looking over my expansive gardens and thinking up what to pick and prepare for dinner when my friends all descend on my farm.
Ok, so really, I'm in my third floor, garden-less apartment in the city… But a girl can dream.
Generally, my goals for an afternoon drink are light, citrus-y, and not too much liquor; my favorites being the sidecar and the mojito, but only if made from freshly squeezed juices! I decided to meld the two together for this drink, and I brought out the juicer to squeeze some of my mandarins into the base for my thirst quencher, because I have a ten pound bag that needed to be used up. Although, frankly, we seem to be going through about 15 of these little cuties a day, so really, I needn't worry.
The resulting beverage is sweet, herb-infused, and certainly refreshing!
Mandarin-Thyme Cocktail
makes one
1 cup of freshly squeezed mandarin orange (clementine) juice
1.5 ounces tasty booze*
a few teaspoons fresh thyme
a few teaspoons fresh mint
Sugar, for the rim
Muddle the the thyme and mint with the whiskey. Add to the juice with some ice, and shake until well cold. Sugar the rim of a highball glass, and strain the mixture in, topping with a mint leaf.
*I used Seagrams whiskey, all I have at the moment, but ideally I'd make this drink with a little bit of Hennessy (Cognac) or Grand Marnier (Cognac with bitter orange).