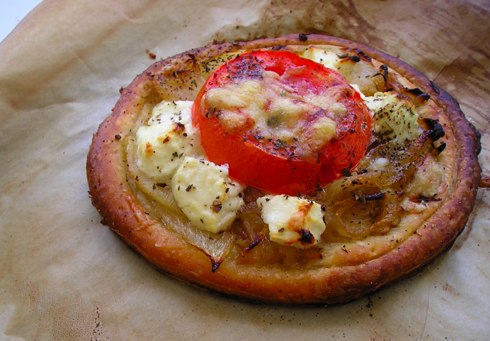 This weeks Barefoot Blogging challenge, chosen by the lovely Anne of Anne Strawberry is one of my favorite recipes of Ina's, her absolutely delicious Tomato Goat Cheese Tarts. These tasty tarts have two types of cheese: goat, and another melty cheese (Ina uses parmesan, but I used fontina this time to fulfill Adventures in Gluttony's Cheese of the Month Challenge) and so really, how can you go wrong? It's also a fairly great base recipe for getting in your vegetables, as you could easily top on a variety of seasonal vegetables and it would work out fantastically.
In order to serve them justice, (and admittedly to get out of the city for some quiet), I decided to go on a quest for cheese outside of San Francisco. We hopped in the car in the early afternoon, and drove across the golden gate bridge, heading up the coast for the country. Cheese, an ocean view, sunshine, farm land, and cows are among my criteria for excellent adventuring, and all were successfully met on this trip.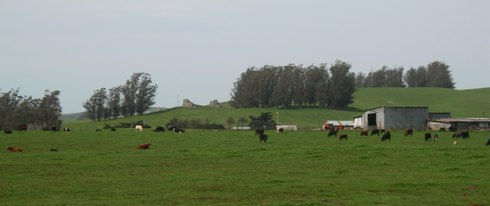 We drove up the 101 to Petaluma, and then across towards Tomales, a tiny town on the 1, where we stopped at Mostly Natives Nursery so I could buy some herbs for my kitchen including a rosemary bush, some cilantro, parsley, marjoram, oregano, two types of thyme, and mint. I'm used to having a garden with fresh herbs, and now living on the third floor with no land, I've been missing out. I'm hoping these guys will pull through living in the house by the windows! We wanted to go to Tomales Bakery, but it is only open Thursdays through Sunday, so we continued back down the incredibly beautiful coastline, driving past Tony's, and Hog Island Oyster Company (two food destinations which I will get to some point soon!), and towards Point Reyes.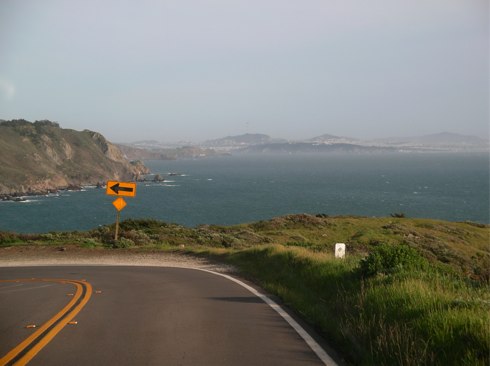 Point Reyes, in addition to being in the middle of beautiful farm land, right on Tomales Bay, is home to Cowgirl Creamery, the main destination of my cheese quest. After sampling, sampling and more sampling, I settled on three cheeses. Fontina, to satisfy my Cheese of the Month, some more of an aged gruyere that I purchased a few weeks ago in Cowgirl's Ferry Building store, and some really remarkable goat cheese, called Hoja Santa. Hoja Santa is made in Dallas by Paula Lambert of the Mozzarella Company, and is wrapped in the leaves of the Hoja Santa plant, which is supposed to impart the taste of sassafras to the cheese. After sampling it, I knew it was the one for Ina's tarts.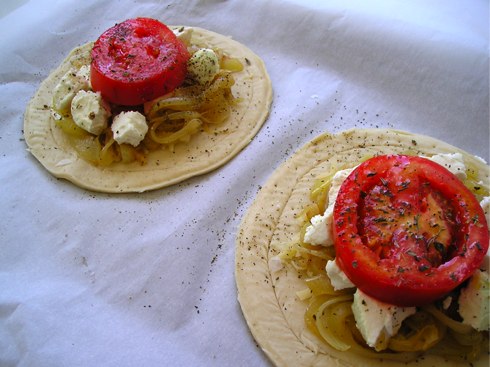 Today I made these tarts for lunch, and couldn't have been a happier camper. So delicious!
Tomato and Goat Cheese Tarts
adapted from Ina Garten
Serves 2
Ingredients:
– 1 sheet of puff pastry, defrosted
– extra virgin olive oil
– 1/2 large onion, thinly sliced
– 1 clove garlic
– coarse salt and black pepper
– 2 tablespoons dry white wine
– 2 teaspoons minced fresh thyme leaves
– 4 tablespoons freshly grated Fontina, with some shaved
– 2 ounces goat cheese (I used plain, but Ina recommends herb and garlic Montrachet)
– 2 thick slices of tomato (about 1/4 inch) from a medium tomato
– a few teaspoons of julienned basil (use fresh if at all possible, but it works fine with dried)
Method:
1. Preheat the oven to 425 degrees.
2. Take a sheet of defrosted puff pastry (I used Trader Joe's Artisanal Puff Pastry, frozen, which comes in big sheets), and draw six inch large circles of pastry, using a bowl or saucer as your guide. Place pastry rounds on a sheet pan lined with parchment, and stick in the fridge to keep them cold until you are ready to use them. (Note: quickly take the leftover scraps, sprinkle them with cinnamon and sugar, and put them in the oven for the next ten minutes or so while you cook the onions. They make a fantastic snack.)
3. In a pan on medium heat, add a couple of good glugs of olive oil, and saute the onion and garlic for about 15 minutes until starting to get very soft. Season with salt and pepper, add the white wine and thyme leaves. Turn the heat down just slightly, and cook for another 10 to 15 minutes until very soft and lightly browned. Take off the heat.
4. Now for the fun part: take your pastry rounds, and with a sharp knife, score a 1/4 inch wide border around the inside of the edge of the circle. Sprinkle about a tablespoon of the fontina cheese on each round, staying inside the scored border. (This is so when baking, the border will rise and create a little edge.)
5. In each circle, place half of your sauteed onions inside the border, and crumble an ounce of the goat cheese. Take your tomato and plop it on top, brushing it with a little bit of olive oil, giving it a sprinkle of salt, pepper, and the basil, and the rest of the fontina cheese.
6. Bake for 20 minutes, until the pastry is golden. You might want to watch it in the end, because if your oven is too hot or uneven it might start to burn. You can serve it on its own, or with a little lemony salad with arugula, and any leftover tomato you might have.