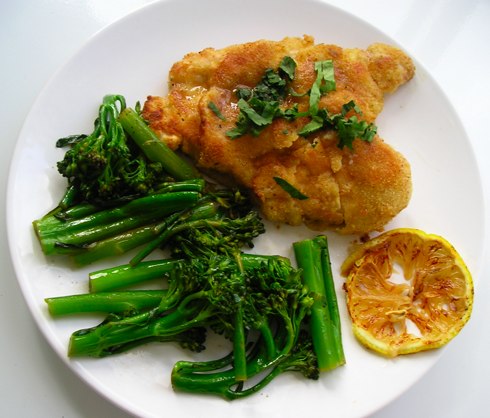 This Thursday's barefoot blogging challenge was chosen by Lindsey of Noodle Nights and Muffin Mornings, and had us all in the kitchen cooking Ina Garten's Chicken Piccata. Now, to be fair, because there are no capers in this dish, I'm not sure how she gets away calling it a piccata, but nevertheless it's certainly tasty.
I chose to accompany the dish with some Sautéed Broccolini (for BB extra credit, chosen by Mary, of Meet Me in the Kitchen). I suppose you could pair this chicken with almost any vegetable (green beans,  regular broccoli, and swiss chard come to mind), and just sauté them the same way in your pan- it tastes infinitely better if you do it in the pan right after you make your delicious piccata sauce, so it absorbs all of that wonderful lemony flavor.

Other things you could do with this chicken: I think that this would taste equally tasty on a nice bit of ciabatta bread with some arugula as a sandwich, or served over some pasta with freshly grated Parmesan. My mother also makes a similar dish served with a side of sauteed cabbage and onions, over farfalle pasta, that my brother swears by.
Breading Chicken: To bread your chicken, it's easiest if you have a little lineup set up. You can do it in plates, but I think that bowls make it all a lot cleaner.

Some things about online recipes to keep in mind: Sometimes, the recipe gets translated badly onto the food network, or other recipe posting sites online. Most of Ina's recipes are for four in her cookbook, and yet somehow the food network versions are for two, with some errors (like enough sauce and breading ingredients for four, but only calling for two pieces of chicken). I find that I tweak many of the recipes posted here online, although the recipes in her book are usually winners.
Crispy Lemony Chicken
serves 4
adapted from Ina Garten
4 boneless, skinless chicken breasts, pounded to 1/4 inch thick
salt and pepper
1/2 cup flour
1 extra-large egg
3/4 cup seasoned dry breadcrumbs (I used plain that I seasoned with my own spices)
Extra Virgin Olive Oil
3 tablespoons unsalted butter at room temperature
juice of 2 lemons
1/2 cup dry white wine
Chopped parsley leaves, for serving
Method
1. Preheat the oven to 400 degrees fahrenheit. Line a sheet pan with parchment paper.
2. To pound your chicken, place the breast between two sheets of parchment paper or saran wrap, and pound flat with a heavy object. *Thin chicken breasts are really important so that the chicken cooks quickly and evenly.* Season with salt and pepper, and set aside.
3. Create your breading line: I like using three bowls (see above). In the first bowl, put the flour, with 1/2 teaspoon of salt, and 1/2 teaspoon of pepper. In the middle bowl, crack in one extra large egg, and a 1/2 tablespoon of water. In the third bowl, place your breadcrumbs. Now comes the fun part! Dip each chicken breast- first in the flour, to coat lightly, then in the egg mixture, and finally in the breadcrumbs. (You will have enough leftover in the bowls if you want to make extra chicken.)
4. In a large sauté pan, heat 1 tablespoon of olive oil over medium-low heat. Add the chicken breasts, and cook for 2 minutes on each side, until the crust is nicely browned. Place them on the sheet pan, and then bake in the oven for about 5 minutes while you make the sauce.
5. In the same saute pan that you have cooked the chicken, add a tablespoon of melted butter, then add the lemon juice, the wine, some salt and pepper. Boil for a few minutes over high heat, until it reduces by half, and then take off the stove and swirl in the extra two tablespoons of butter. Set aside in a bowl, and use the pan to make whatever vegetable you are serving it with.
6. Plate the chicken, pour on some sauce, add the fresh parsley, and serve with a wedge of lemon. It's a surprisingly light and refreshing dish!
Sauteed Broccolini
serves 2
Ingredients
1 small bunch broccolini
1 tablespoon unsalted butter
1 small clove of garlic, minced
Juice of half a lemon
1/4 teaspoon of ground black pepper
Juice of half a lemon
Method
Steam the broccolini with a few tablespoons of water in the microwave for three minutes, and drain. In the pan that was used for the lemon sauce, add a the butter, garlic and lemon juice, salt and pepper, and heat as the broccolini steams. Add the drained broccolini to the pan and sauté for a minute or two, turn off the heat, and plate.