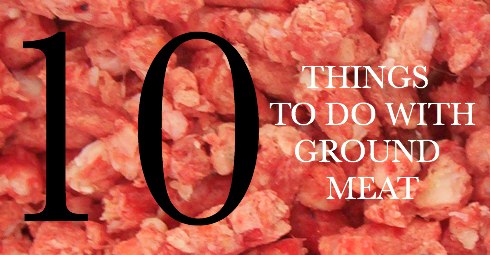 I buy a lot of ground turkey from Drewes these days, mainly because it is cheap, but also because it is incredibly versatile and fulfills the MEAT! craving without compromising my attempts at a healthier diet. I find that most recipes I use can easily substitute ground turkey for beef or lamb without losing flavor, and you can easily get worldly tastes by changing up the spices that you use to flavor the meat.
Here are a few things you can do with a pound of lean ground turkey, or lean ground beef, with a little bit of creativity and most of them take no more than half an hour from start to finish.
1. Make meatballs: put ground meat in a bowl, and add a cup of minced onion or leek, some minced garlic, parsley, some grated parmesan cheese, and about a half cup of bread crumbs. Season with salt, pepper, cumin, and chili (themore seasoning the better), add an egg to bind the mixture and knead with your hands. Form into small little balls, and pan grill, moving the balls around until they are fully browned, about 10 minutes.
2. Make turkey burgers: use the same recipe as above, except form into patties.
3. Make chili: Brown the meat in a big pot with some onion. Add a can of pinto beans with it's juice, a can of kidney beans, and a can of tomatoes (I like using San Marzano tomatoes). Season with some garlic, chili powder, cumin and oregano. Add a half bottle of dark beer, drink the rest. Simmer for a while. Done!
4. Make Turkish spinach and meat: saute an onion in some olive oil. Add ground meat, and cook until meat is browned. Add a few tablespoons of tomato paste, salt, and pepper. Add about two pounds of spinach, and some stock. Stir until the spinach cooks down. Finally, add a half a cup or so of rice, and a couple of cups of stock or water. Cover, and cook until the rice is tender, about half an hour to forty minutes. Serve with some plain yogurt, or an egg on top.
5. Make burritos: season the meat with salt, pepper, cumin and chili. Heat up a can of refried beans with a chopped tomato. Goes well with pepperjack cheese. Serve in a tortilla or over some rice.
6. Make Indian keema mutter: saute an onion, and add the meat. season with salt, pepper, a few cloves of garlic, a teaspoon each of ginger, garam masala, and chili. Cook until the meat cooks, and then add a few cups of frozen peas. Cook for a few more minutes and finish with a few good squeezes of lemon, and some fresh cilantro.

7. Kapuska, a turkish cabbage stew: Brown the meat, add a few chopped onions, and cook until soft. Add a few tablespoons of tomato paste, and some red pepper flakes, and cook for a few minutes. Add a can of tomatoes, salt, and pepper, and a chopped small cabbage. Add a few cups of broth, and simmer for a half an hour until the cabbage is tender. Add some more spice if you would like, and serve plain, or with yogurt.

8. Make a cold thai salad called Larb: Cook your ground meat, and set aside to cool. When cooled, add about a quarter cup of sliced shallot, and some spring onions. Add a small handful of fresh chopped mint leaves, some thai ground chili, a few drops of fish sauce, and several tablespoons of fresh lime juice. Serve at room temperature, perhaps with some sticky rice, or as the filling for lettuce wraps.
9. Stuffed vegetables: Mix cooked ground meat with a few cups of cooked rice, season with basil, parsley, parmesan, salt and pepper. Stuff some hollowed tomatoes (add the inside to the stuffing mix), cored zucchini, and peppers with the mixture, and bake in the oven, tightly packed together for about half an hour at 350.

10. Finally, although I cook from scratch most nights, and strongly favor organic and wholesome foods, sometimes, when I'm tired and hungry, Hamburger Helper Lasagna does the trick. Add a can of chopped tomatoes and some steamed broccoli for some semblance of health.