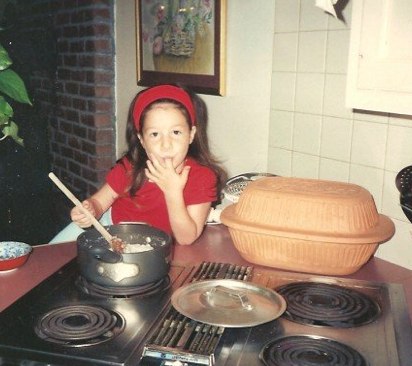 I'm Sam Tackeff, and I've been cooking in the kitchen for longer than I can remember. My mother would set me to work with something to peel, chop, or stir right alongside her. There is no doubt that I'm the happiest when eating, cooking, talking or thinking about food.
I grew up in New Hampshire, right by the ocean, and after college moved to San Francisco. I am a bit of a Jill of all Trades: writer, blogger, website design, editor, food consultant, recipe tester, food researcher, recipe organizer, and have worked for some prominent chefs and cookbook authors. I'm always looking for new opportunities to share my passion for food, and if you would like to work with me, please feel free to contact me to set up a meeting. I also am the former bookstore manager of Omnivore Books on Food, and cookbooks are my passion!
I'm also particularly interested in how food plays a role in health and wellness, and am a graduate of the Institute of Integrative Nutrition, and a certified health and wellness coach, with certification from the SUNY Purchase College. I lead Globalization at RunKeeper, a fitness company with the mission of promoting active living for every body. (Before switching to contract to build my business, I also moonlighted as the Systems Team Lead and the Agile coach for the Data Team, and found myself doing a host of odd jobs, including running our weekly #RKChat when they let me.)
***If you are new here, you might consider subscribing to my RSS Feed
***And you can email me at: sam [at] thesecondlunch.com
***Or follow me on twitter: @alphaprep
Disclosure:
While I'm certainly not doing this blog to make a living, if you purchase books or products that are mentioned on this site, such as from Amazon.com, I may be receiving a tiny kick back from your purchases (think fractions of a cent, or cents). And while I'd always recommend shopping at your local independent bookstores, cooking stores, etc. these bonuses only help to keep this blog running!
While the majority of books and kitchen gadgetry mentioned on the blog have been purchased from my own resources, occasionally I will receive products for review – please note, I will *always* disclose that I have received a product for review, and frankly, I won't post about it if I don't like it.
Here's the official disclosure: "Samantha Tackeff is a participant in the Amazon Services LLC Associates Program, an affiliate advertising program designed to provide a means for sites to earn advertising fees by advertising and linking to amazon.com."
Health Disclaimer:
Please note that I am not a doctor or an RD, but I am a certified health and wellness consultant through the Institute for Integrative Nutrition. For further help regarding medical illnesses such as eating disorders, please contact your doctor or local RD for advice. For more information, please contact me at sam@thesecondlunch.com.
The Site:
The site is powered by WordPress, using a modified CutLine theme. I'm also using a green host for the site -data centers use up a lot of energy – try choosing one that is committed to reducing their impact!
All text and photos are © Samantha Tackeff 2009-2015 except where otherwise noted. Please do not steal! Email me at sam [at] thesecondlunch.com – if you'd like to use one of my photos, and I'd be happy to share my terms. Thanks!