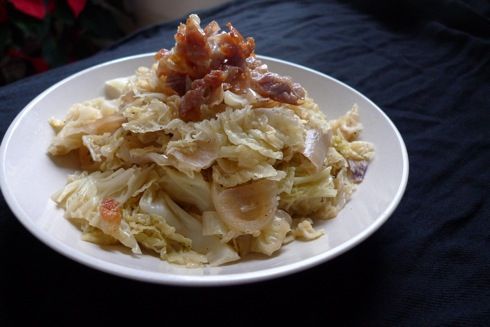 I recently subscribed to a new CSA (community supported agriculture) here in San Francisco. Every other week, I'll be getting a box from Farm Fresh to You delivered right to my doorstep. I've been going each week to farmers market for the past year, but it's a little chilly lately and I've been slacking. This way I'll definitely have some fresh organic fruits and veg, even when I don't feel like going to market. And it'll make me eat more dark leafy greens. Kale chips, here I come.
It's not as wondrous as my previous membership to Stearns Farm at the outer edges of Framingham, Massachusetts – but it's still pretty exciting. [I could wax poetic about Stearns for hours – it's exactly what a CSA should be – required farm hours, picking about half of your own weekly vegetables, shared meals, harvests, a real connection to a farm and a community, but alas, I'm a little far for that nowadays.]
This weeks box: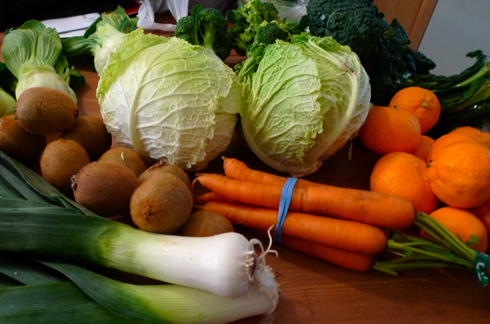 Sauteed Cabbage with Onion and Prosciutto
serves 1 as a meal, or a few as a side dish
In a heavy bottomed pot, heat a Tablespoon  of Olive Oil on medium heat, and saute 4 slices (about 2 ounces) prosciutto that you have chopped until crisp, just a few minutes. Take the prosciutto out and set aside. Then, add a roughly chopped onion to the pot, and cook until slightly tender – about five minutes. Go ahead and deglaze the pan with a few tablespoons of sherry to help lift up any brown bits and add some flavor. Add in one chopped head of cabbage, preferably Savoy, but whatever you have is fine. Stir around until things are coated, add a cup of low sodium chicken stock or water, turn the heat to medium low, cover, and let braise for 20-30 minutes until everything is tender and soft. Season with lots of pepper and a tiny bit of salt. Serve hot, topped with the crispy prosciutto.