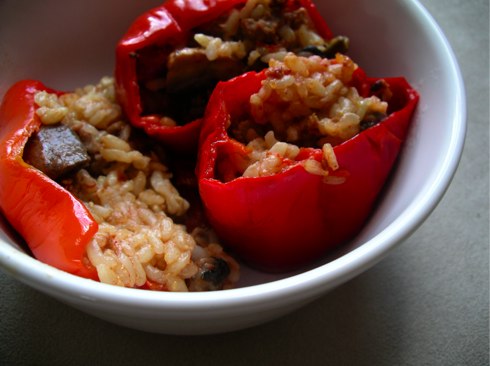 Growing up, one of my favorite foods from my mother's kitchen was the Dolma. Dolma in Turkish really refers to pretty much anything stuffed, rather than just the stuffed grape leaves it has become synonymous with in the States.
Some of my favorite dolma were her stuffed tomatoes, peppers and zucchini: vegetables from our garden ubiquitous in the summer time, that truly sang with a little bit of added filling.  At home, my mother would make them with a traditional Turkish style filling of ground meat, rice, onion, chopped tomato, mint, dill, parsley, and toasted pine nuts.
After finding some spectacular peppers, and some Kokuho Rose brown rice this week at Alemany farmer's market, I set about gathering ingredients for my dolma. I already had some left over cooked ground turkey that I had sauteed for a frittata filling that needed to be used up, and stuffed peppers seemed to be a natural receptacle for using up my leftovers. While these stuffed peppers don't follow the traditional recipe, they are still incredibly delicious, and bring back so many good memories of home and excitement for the summer to come.
The best part about these stuffed peppers is that you can make them well in advance, and they taste equally good, if not better, the next day for lunch. And, they are the perfect size to pop two into a bento and have a filling lunch at work. Finally, in the spirit of adding as many vegetables to my diet as possible, I decided to add some roasted cherry tomatoes to the filling, and pop in a few extra scored tomatoes into the final dish to roast alongside my peppers. If you have any extra vegetables that need some cooking, this isn't a bad dish to pop them in alongside.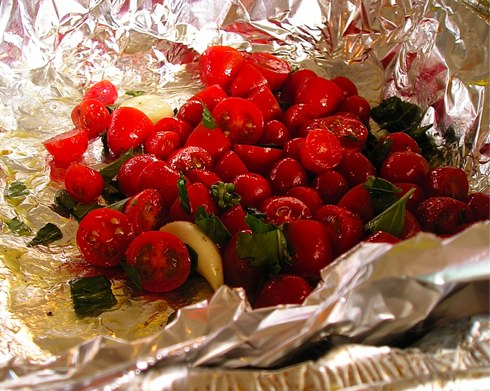 Roasted Tomato and Brown Rice Stuffed Peppers
serves two, with extra for lunch
2 cups cooked brown rice
1 cup cooked ground turkey (seasoned well with cumin, salt, pepper, chile powder)
1/2 onion
olive oil
2 cups cherry tomatoes
2 cloves of garlic
a few tablespoons of freshly torn basil
salt and pepper
4 red bell peppers
A good glug of balsamic vinegar
a few teaspoons of fresh thyme and oregano
olive oil
plain yogurt (optional)
Method:
Making the filling:
1. While brown rice is cooking, pop a few handfuls of cherry tomatoes in a pan with some olive oil, garlic cloves, salt, pepper, and freshly torn basil. Cook at about 300 degrees F, until the rice is done, about 40 minutes. They should get all jammy and delicious.
2. Right after popping the tomatoes in the oven, start the ground turkey, first sauteeing a half an onion in a little bit of olive oil for about 15 minutes until soft, and then adding the ground turkey, and cooking until well browned. Season with salt, pepper, cumin, and chili powder to taste. (I usually use about a teaspoon each of cumin and chile powder, but I like these with a little kick.
3. When the rice, tomatoes, and turkey are done, stir together in a bowl, and add a good glug of balsamic vinegar, and a few teaspoons of fresh thyme and oregano.
Assembling the peppers:
4. Preheat the oven to 400 degrees Fahrenheit. Line a deep baking tray or roasting tray with foil, and grease lightly.
5. Cut the peppers lengthwise, leaving the stem in place, but scooping out any seeds and excess white bits. For smaller peppers, feel free to lop off the top instead of cutting lengthwise. My mother bakes her peppers with the tops on, but I personally enjoy how the filling gets crisp on top when left uncovered. In a large baking pan lined with foil, place the peppers, season with a little salt, and pour on a little bit of olive oil.
6. Stuff the peppers with the mixture, place in the pan, and cover with foil, cook for 45 minutes at 400 F, uncover and cook for about 10 more minutes, or until top has lightly browned. Serve immediately, with a lemony herb salad. If you like, top with some plain yogurt – a very traditional Turkish accompaniment to this dish. I just spoon it over the top, it's not fancy, it looks a little odd, but it tastes delicious. (It's like the middle eastern equivalent to sour cream or mexican crema.)