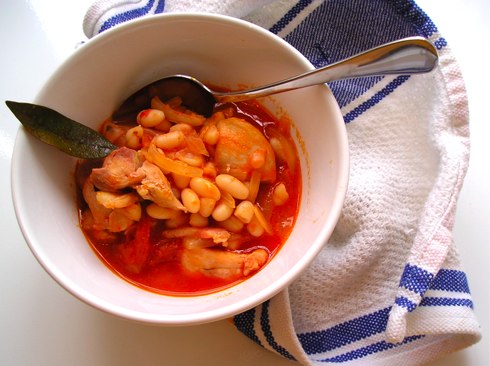 I like warm, comforting, delicious stews. I think they are particularly perfect for when it is raining and cold (apparently most of the time here in San Francisco) and you just want something really easy and hearty to tuck into. I'm always looking for good recipes, and so when I saw Nigella Lawson make this chicken cacciatore for her children on 'Nigella Express', I went directly to the store to purchase the ingredients to start cooking. Nigella is truly one of my favorite chefs, and cooks really beautiful, easy and well.. sexy food. Her book "How to be a Domestic Goddess" is one I frequently cook from, with much success, and I just can't get enough of her.  She also has a very pretty product line with really cute stuff that I would love to fill my kitchen with.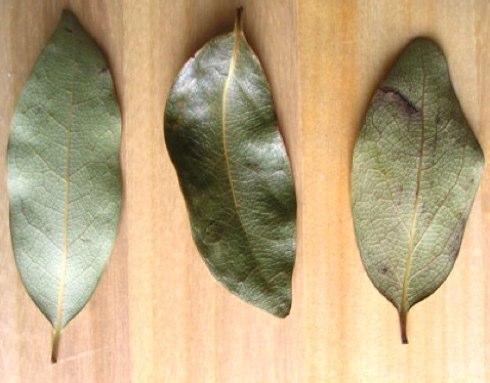 Bay leaves: These ones that I used for the stew were part of my reserve collection that I smuggled back from Istanbul, where they grow copiously on trees on the island of Büyükada. One afternoon, my mom and I picked about a hundred of them and laid them out all over a table to dry so we could take them home with us. They are an invaluable part of my spice collection! Bay leaves can be expensive, but they are wonderfully fragrant, and shouldn't be left out of dishes that call for them. I used three for this stew, and it was well worth it.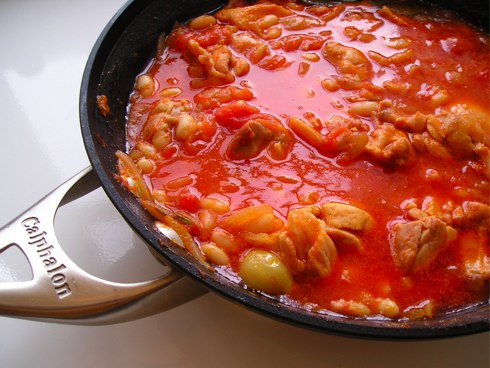 The smells from this stew are really heavenly, and is the perfect dish to cook for guests, yet not so finicky that you couldn't just cook it for yourself to eat while watching the television with a beer. It took me a little less than half an hour from start to finish, and would have tasted equally good the next day for lunch (although we definitely didn't have any left, so that is just an assumption on my part).
A Hearty Chicken Cacciatore
Adapted from Nigella Lawson
serves 2-3
Ingredients
– 2 tablespoons extra virgin olive oil
– 1 whole clove of garlic
– 1/2 white onion
– 1 teaspoon fresh rosemary (or 1/4 teaspoon dried)
– 2 thick strips of smoked applewood bacon
– 1 pound of boneless, skinless, chicken thighs, cut into small pieces
– 1/2 teaspoon celery salt
– 1/2 cup white wine
– 1 (14 ounce) can of chopped tomatoes
– 3 bay leaves
– 1/2 teaspoon sugar
– 1 (14 ounce) can cannellini beans
Method
1. Pour some olive oil in a large saute pan on low heat, add a whole clove of garlic, the onion, and the rosemary and stir until the onion is slightly translucent, but not browned, about ten minutes.
2. Add the thick cut bacon, and fry for a few minutes. Increase the heat to medium, add the chicken and celery salt and stir for a couple of minutes, until the outside of the chicken is white.
3. Pour in the white wine, and cook for a few minutes until just simmering, then add tomatoes, bay leaves and sugar. When it comes to a bubble, properly, turn it down slightly, simmer for 20 minutes, and then turn in a can of canellini beans, until they warm up, and it's done!
Serve with a nice hunk of bread, and a little green salad. Delicious!