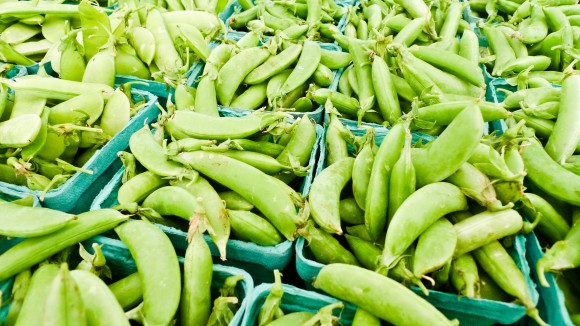 One of the best ways to orient yourself in a new place (or in my case, a familiar place that I've been away from for a long time) is to visit the local markets and farmers' markets. I instantly feel calmer once I know what is growing and in season. Just walking around, taking everything in and breathing, I immediately start dreaming of the possibilities in the kitchen, and spend less time worrying about being in a foreign place.
After a long week on the road driving from San Francisco to New Hampshire, we were a bit zombie-esque but jumped at a chance to get out into the sunshine and find some good produce. The Portsmouth Farmers' Market is held in the parking lot of the city municipal complex and Connors Cottage Senior Housing building.
Despite pleasant pea-loving patrons, this was the location of scandal last year as some residents of Connors Cottage began complaining of early morning rooster crowing during market set-up. I always assumed the elderly loved early birds, or at least their specials. As a side note, that building used to be the old hospital and I was actually born there.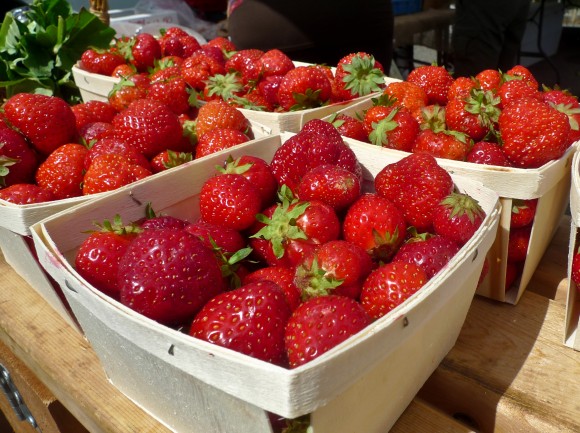 For the next couple of weeks we will be staying with my parents in their home on the Seacoast and then we plan on moving to the Boston area. Somerville? Cambridge? Newton? I'm not quite sure yet. We don't have a firm timeline – but the concept of moving into your parents house with your significant other in tow feels a little crazy, so I'm just treating this like an extended vacation and plan on getting my act together quickly.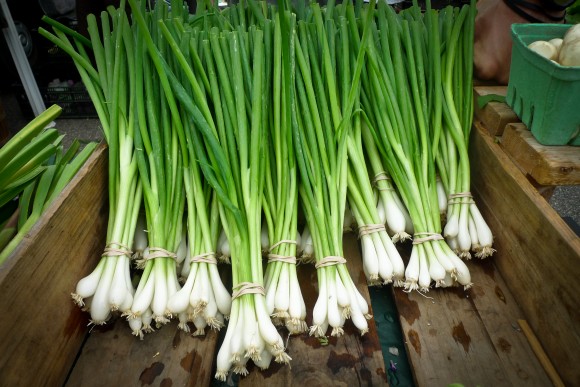 My mom and I are like two slightly deranged excited people when we reunite.  We like to get things done – walking on the beach, taking on big house projects, cooking any number of delicacies, and especially shopping together.
We hopped in the car and headed over Saturday morning farmers' market with Devon in tow, who seemed slightly concerned at our level of general excitement. The first thing I noticed was that finding a parking spot was remarkably easier than doing the same in San Francisco. Win!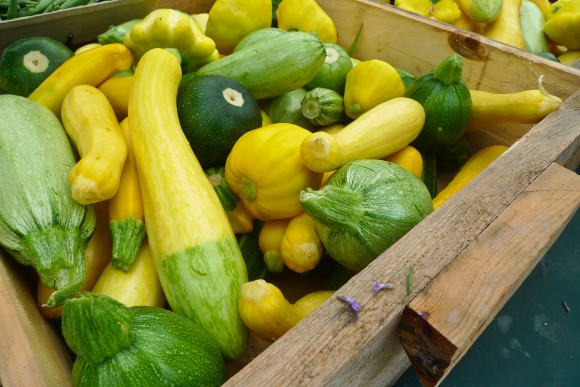 We have a method to our madness. Usually, we circle around the entire market a few times to survey everything, chat with friends, and plan our meals. Then we do the shopping. While my mom and I did the rounds, Devon went off to find food. The food options at the Portsmouth market are mostly bakeries, a few tea companies, a maple syrup company which has maple cotton candy, Applecrest serving up apple cider donuts (see below), a few pastured meat farms with breakfast sandwiches and sausages, and an Indian food stall. Devon ended up with a little blueberry muffin, and a home made hot dog. Of which I got none of… because, apparently I was too busy shopping.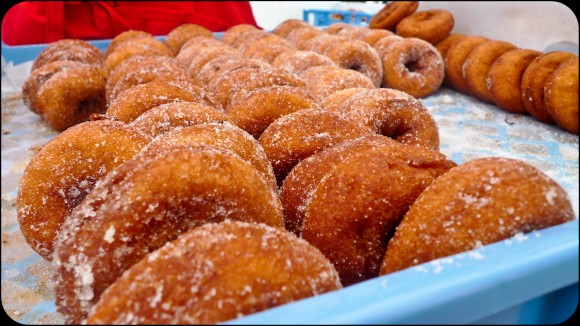 [These donuts are very, very good. I generally hold back at the market though, because I prefer them hot (which you can get at the farm). And also, because it is particularly difficult to eat only one and not crave them for the rest of the week.]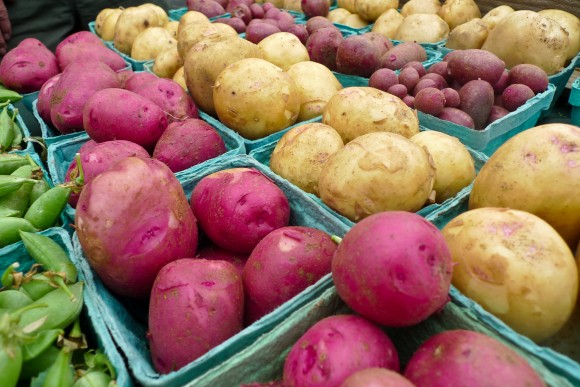 One of the things that I'm going to have to get used to is the fact that I don't have as easy access to nicely labeled organic, local produce all in one place. We certainly don't have a Rainbow Grocery, and you simply don't have access to the same options at the local supermarkets here. Fortunately, the majority of the farms at the farmers' market are small, family run, and environmentally conscious. They use low-impact farming practices, even if they don't pay for Organic Certification, so I can still feel confident in what I'm eating.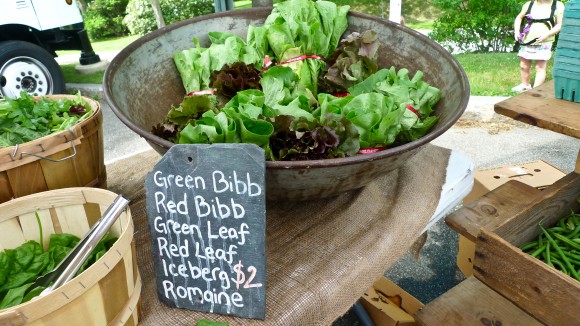 The Bounty: We didn't over do it this week (sometimes we do), but came out with a good selection of mostly green vegetables. After a week of road food, I've been craving all the green I can possibly get!
Zucchini, Onions, Garlic, Green Peppers, Turnips, Beets, Fennel (Wake Robin Farm)
Garlic Scapes (Stone Wall Farm)
Green Beans (Applecrest Farm)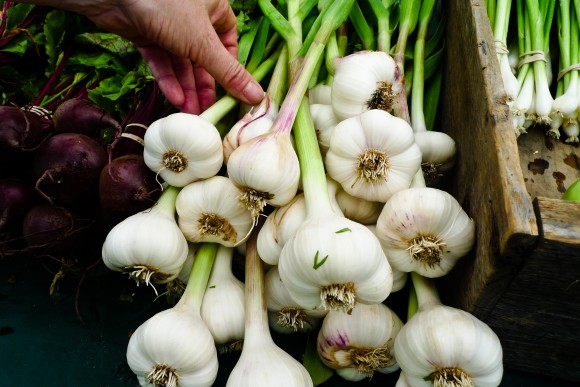 The Plan: I'm thinking of making zucchini fritters, Turkish stuffed green peppers with rice and currants, and a green bean and potato salad with anchovy dressing which I've been eying from the Leon Vol.2 Cookbook
With the fennel I'll make my shaved fennel salad. I haven't decided about the beets yet, because although I prefer them roasted, the idea of cranking up the oven in 90 degree heat seems a little silly. They'll probably be shaved into salad as well.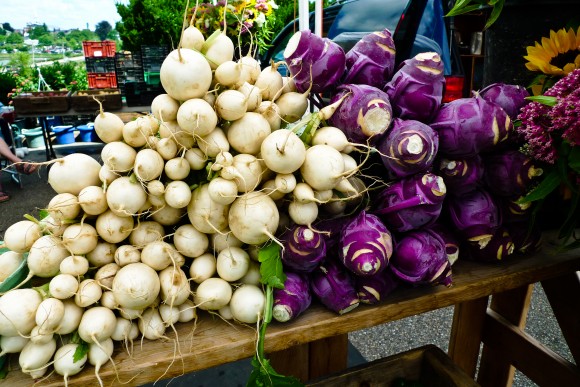 You can also get all manner of other fun things at the market, including flowers, leather products, lambskins, home made soaps and candles, Kit Cornell Pottery which Kit herself sells out of the back of her van, and these extraordinarily happy yarn balls. I feel like if you got a few of these and strung them up at a party, everyone would have a wildly good time.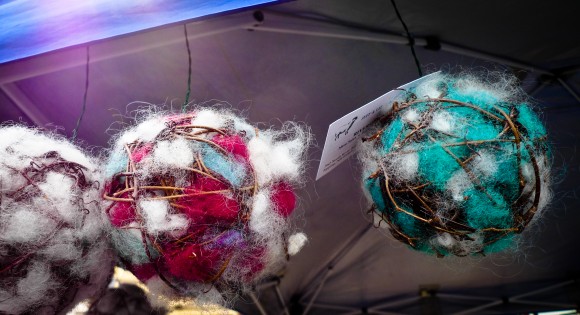 To the Kitchen: Once I got home, the first thing I made was Garlic Scape Pesto. Garlic Scapes are the shoots and bud of hard-necked garlic, and are delightfully zippy. Garlic scapes are not to be found anywhere in California markets because hard-necked garlic is primarily found in colder climates. Even though San Franciscans complain of the cold summers, this apparently does not qualify. Although maybe they do exist, and I was just forced to suffer for four years in ignorance.
Garlic Scapes are fairly versatile, and some of my favorite preparations are grilled, whirred into pesto, or chopped and used to impart a garlicky taste to stir-fries with some actual body and crunch. When they are plentiful, I like to buy them and chop them into inch-long pieces to freeze as well.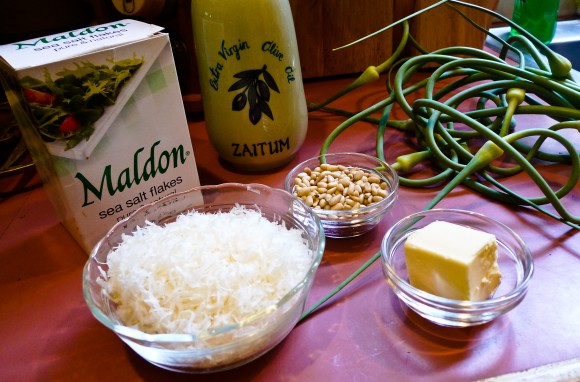 Garlic Scape Pesto
This recipe is for garlic obsessed, and preferably not to be served if you are aiming for romance later in the evening. I first tried Garlic Scape Pesto at Stearns Farm which was pretty straightforward but added some basil. But, I like this recipe because it keeps the flavor cleaner and yet adds both oil and butter, which seems a little bit fancy, but nicely complements the strong garlic taste of the scapes.
adapted from Marcella Hazan's Food Processor Pesto Recipe
For the processor:
10 garlic scapes (cut into 1/4 inch pieces)
1/2 cup olive oil
3 tablespoons pine nuts (or walnuts or slivered almonds)
Sea salt
To mix in by hand:
1/2 cup freshly grated Parmigiano-Reggiano cheese
2 tablespoons freshly grated romano cheese
3 tablespoons butter, softened to room temperature
Put the garlic scapes, olive oil, pine nuts and salt in the food processor and process until fairly smooth – about 4 to 5 minutes, pausing every minute or two to scrape down the sides. You don't want to skimp on this step, because if the pieces of scape are too big, they may taste too strong.
Transfer the mixture to a bowl, and stir in the cheeses and mix well. Finally, stir in the softened butter. Then go ahead and taste it – it might need a little bit more salt, and if you'd like you can go ahead and brighten it up with a little bit of lemon, but I usually think it is fine just as is.
Things to do with Garlic Scape Pesto: you can eat this stirred into pasta (just loosen it a little bit with some pasta water), or serve it with fresh pita or little crackers. Or you can rub it on chicken, and put it on the grill. You can add some to brighten up a summer minestrone, or on top of some fried eggs.