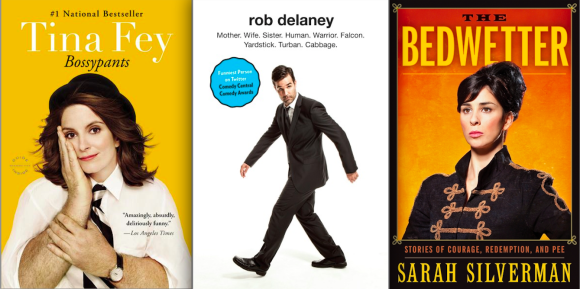 If we're going to discuss life resolutions, as one is wont to do around this time of year, I'd say that one of my top resolutions in life right now is simply to laugh more. Deep belly laughter is shockingly restorative, and as adults, we do much too little of it. 
The first three books I read this year were written by people who are funny for a living. Now, I should say that reading memoirs by people who are funny for a living is not the same as reading/watching/listening to their comedic work. These books were all funny, certainly, but they were also moving, thought provoking, and introspective. In some sections they were painful, dark, and sad. In each, the most fascinating parts were the stories from childhood, anecdotes about family, first jobs, awkward relationships, and weird career trajectories. Two of them featured bedwetting as a prominent plot point (Rob, Sarah). One, puberty quite early (Tina), another, quite late (Sarah). All three featured excessive body hair. The low points, I think, for all three books, were the bits about present day or recent history, specifically revolving around their current shows, or how they got the book deal, or what may be up next – these sections all felt like weird filler, without the passage of time necessary for true introspection.
Each had moments that I'll continue to think about for quite some time – Rob Delaney's honest discourse about both his depression and alcoholism, Tina Fey's thoughts about management style, with examples of both her own, and Lorne Michaels', and Sarah Silverman, on the absurdity of sexism in censorship.
I quite enjoyed all three.
#1. Rob Delaney: Mother. Wife. Sister. Human. Warrior. Falcon. Yardstick. Turban. Cabbage. by  Rob Delaney
Hardcover, 208 pages
Published November 5th 2013 by Spiegel & Grau
Listened to audiobook – Random House Audio
#2. Bossypants by Tina Fey
Paperback, 275 pages
First published January 3rd, 2012 by Back Bay Books
Read paperback, as well as listened on audio read by author
#3. The Bedwetter: Stories of Courage, Redemption, and Pee by Sarah Silverman
Hardcover, 256 pages
Published April 20th 2010 by HarperCollins
Listened to audiobook, read by author