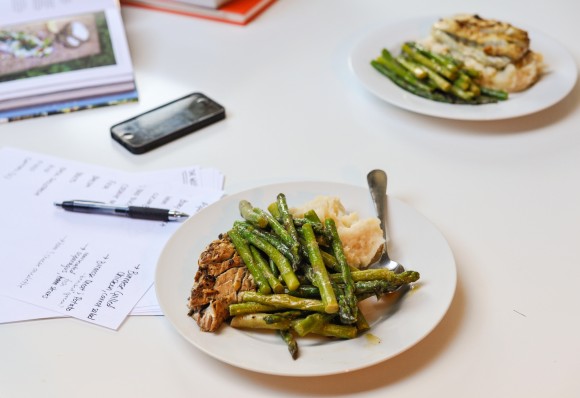 Meal planning again – I really do look so forward to this process. Usually, the beginning of my weekends are spent curled up with a new cookbook, reading it from cover to cover by Saturday afternoon, meal planning for the week, shopping and prep cooking on Sunday. This weekend I was totally swept up reading Naomi Duguid's fabulous Burma: Rivers of Flavor – the ultimate armchair vacation cookbook.
On Saturday I set to work making a little list of what was left in my fridge that I wanted to use up: asparagus, baby spinach, ham, cucumbers, two zucchini, coconut milk, feta, bacon, beets, basil succotash, basil oil, brussels sprouts, Anson Mills rice, eggs, carrots, avocado and tomatoes. Of course there are plenty of bits and bobs, sauces, condiments, and probably things in the way back of the fridge that I just haven't noticed for a while – all fair game too. And then my pantry is stocked for the apocalypse, so I like to build upon the fresh stuff, but sometimes pantry goods get the starring role in the meal.
When I went to the store, I tried to pick up some meat, some fruit for the week, things to round out my lunches, pantry staples I was running out of: sardines, Red Boat fish sauce, an extra avocado. And by store, well, that's a lie, we all know that I have a problem. "Store" is more like, three or four or five stores. By choice. For pleasure. Sometimes I stop by Trader Joe's just for the sample first, you know, to clear my mind. Then I'll head to Russo's in Watertown to see if they have Chip-In eggs (they didn't), or interesting peak produce. Then to Whole Foods for Sunday night fish and an olive sample and a little cup of bionically filtered water, and Trader Joe's again (to see if they have the free range organic chicken thighs that I eat a lot of (they did.) And another sample.
So here's what I came up with, accounting for a few days that we'll likely be eating out because of our super late schedule:
:: Grilled Blue Fish, Mashed Potatoes, and Asparagus with Mustard Vinaigrette. I try to do fish every Sunday if I can because I know that I'll be able to cook it right when I get home, and usually it's a quick bet after an afternoon of prep cooking.
:: Saucy Spiced Meat & Potato. This one is from the Burma cookbook. It's sort of like a spiced stew with ground beef (actually, reminds me a lot of sloppy joe mix.) and I'm not quite sure what I'll pair it with yet – a big mess of sautéed spinach, and likely a simple salad. I think it suggests an okra/shallot stir-fry in the book, which would be nice, but I don't have okra.
:: B.L.A.T. Salad. Yep, bacon, lettuce, avocado and tomato salad. The feta might go in here too. And beets on the side.
:: Burmese Grilled Chicken. Also from Burma - chicken with an exciting! marinade of ginger, turmeric, garlic, chile, and fish sauce. I'd bathe myself in Red Boat fish sauce… I'll probably pair this with a quick pickled cucumber salad.
:: Ham & Cheese Omelette. I have leftover ham. And leftover cheddar with hatch chiles (sucker purchase after eating a sample). And eggs that are a little old, but not too old, that I really want to use up. And I like to channel my French side in the summer time. On the side some stewed zucchini, tomato, and garlic, and a side salad. Ooh la la!
:: Coconut Rice Pudding. I have rice, coconut milk, and some delicious Nielsen–Massey Organic Fairtrade Madagascar Bourbon Vanilla Extract that was sent to me to try out for my blog. (Really good timing, P.R. folks – I usually make my own, and I've just run out of a large batch that had lasted for months.) I really love Thai mango sticky rice, so I might do some sort of play on that.
And fitness? There's plenty of that too:
The three miles of walking on weekdays is my usual their and back commute walk. Our evening strolls are walks, although this week we've been adding in some running intervals. These aren't always what I end up doing, but I find that if I schedule out my workouts, I'm more likely to commit to doing them.
Monday: 3 mile walk + 6 mile slow run
Tuesday: 3 mile walk + evening stroll
Wednesday: 3 mile walk, CrossFit Olympic Lifting Class
Thursday: 3 mile walk
Friday: 3 mile walk+ evening stroll
Saturday: CrossFit (or day off)
Sunday: CrossFit Class + Open Platform
What's on your plate this week? Also, for those of you who have Burma, have you cooked from it? I have lots of notes, but I'm not sure what to tackle next…