Good morning! I'm heading out to my very first day of my "work sabbatical" at Boston Startup School. I'll be hitting the books again spending six weeks as a student in their marketing track. It's back to the grind of a more normal-ish workday schedule, but I've been so enjoying spending time here, so I'm going to do my best to post regularly. I've committed myself to NaBloPoMo to support my intention, and am looking forward to the challenge.
Because it's a Monday, and so many of us dislike Mondays, I'm slapping up a Monday inspiration post. Yep, inspiration. I'm feeling new-agey. Here's the Holstee Manifesto. I first saw it on Maria Popova's Brain Pickings two years ago, and in the past two years it's been circulating the internet, a veritable inspiri-meme. I made that up. Feel free to use it.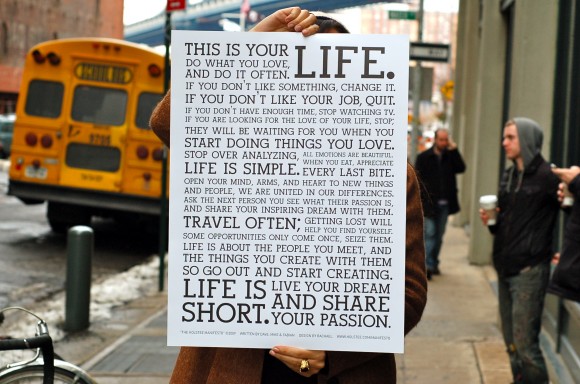 Here are a few things I like about this: The font. "Some opportunities only come once, seize them." The fact that it's a letterpress poster. I covet the letterpress. "Go out and start creating." Doing. "Share your passion." Trying!
Happy Monday everyone!